South Pasadena Parents of Children with Special Needs Support Group
---
NOW IN OUR 14TH ACADEMIC YEAR!
Please join us for a meeting of the South Pasadena Parents of Children with Special Needs Support Group. Meetings will be held from 7:00 to 8:30 p.m. on the second Thursday of each month (9/14/17, 10/12/17, 11/9/17, 12/14/17, 1/11/18, 2/8/18, 3/8/18, 4/12/18, 5/10/18).
The first meeting on Sept 14th will be held at the home of Kari Afschar, 1107 Fairview, South Pasadena. Subsequent meetings will be held at the homes of other support group members. If you would like to receive information about subsequent meeting locations or to be added to the special needs email list, please write to sara.k.austin@gmail.com.
Our group seeks to provide an informal setting where parents can:
Meet other parents of special needs children;
Discuss the difficulties and rewards of raising a child with special needs;
Share experiences and practical advice;
Learn about local resources, such as schools, doctors, specialists, tutors, and programs.
Raising a child with special needs can often be isolating. We hope to form a community where everyone feels welcome, unencumbered, and emotionally supported. The personal problems and concerns of support group members will remain private and confidential. Parents from other cities / school districts are welcome. Please contact Sara at sara.k.austin@gmail.com with questions or comments.
Download the Special Needs Support Group Flyer for 2017-18.
*Sponsored by the South Pasadena Council PTA*
---
Coffee with the Director
Please join  the Executive Director of Student Support Services, Dr. Dennis Lefevre, for coffee or tea. Each session will be one hour, and all parents and community members are invited. This is a great opportunity to ask questions and learn more about the student support services provided by SPUSD (South Pasadena Unified School District).
October 12, 2017 – 5:30 p.m. – District Office
December 15, 2017 – 8:30 a.m. – District Office
February 20, 2018 – 5:30 p.m. – District Office
April 17, 2018 – 8:30 a.m. – District Office
Dennis Lefevre, PsyD, Executive Director of Student Support Services * 1020 El Centro Street, South Pasadena, CA 91030 * 626-441-5810 x 1140 * defevre@spusd.net
Download the 2017-18 Flyer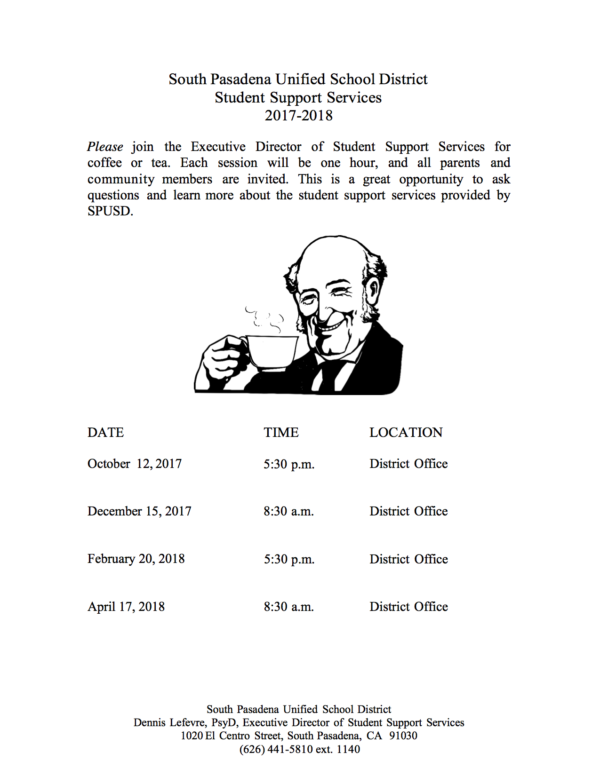 ---
 WSGV SELPA
COMMUNITY ADVISORY COMMITTEE (CAC) REGULAR MEETING SCHEDULE
On Special Education
The WSGV (West San Gabriel Valley) SELPA (Special Education Local Plan Area) Community Advisory Committee (CAC) serves in an advisory capacity to our Governing Schools Boards in the WSGV SELPA.  Meetings provide up to date information on issues that impact our children, as well as the opportunity to communicate with our School Districts and give input on district policies and the Local Plan, as well as an opportunity to connect and network.
The meeting schedule for 2017-18 is below. Agendas are available in advance of meetings at the CAC page of the West San Gabriel Valley SELPA.
Download a SELPA Information Flyer.